Compressed Gases Safety Training
Attendance provides the information required to understand the specific hazards associated with compressed gases such as Nitrogen, CO2, Hydrogen and Argon and other gases used in Laboratory or Industrial applications, resulting in an assured workforce and a safer workplace. This course includes instruction on 'after use' checks of the system and all in service equipment, this follows CP47 code of practice published by the BCGA. Our training courses are constantly changing to reflect current industry recommendations.
The staff were very helpful. Our operatives gave a very good response to taking the course and its content. The training was presented very well and the content was up-to-date"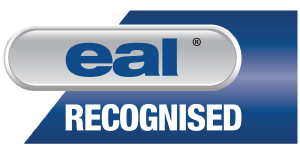 Certification is available as a Nationally Accredited Level 3 Qualification.
Awarded by EAL the Level 3 Qualification is the the highest level of achievement available for compressed gas safety training in the UK - only available from PGS.
All Inclusive Price
Pricing is fully inclusive of classroom & practical training. No additional fees for travel within mainland UK
£895
plus £85 per learner, maximum of 20 learners
Additional modules available: CP47 Inspection, Cryogenic gases; Accumulators and Manifold Systems - Enquire at time of booking
Course Structure for Compressed Gases Safety Training
Classroom Session 2 hours
Interactive training on Compressed gases and equipment used in a laboratory environment with topics including:
Practical Session allow approximately 1 hour
Learners will be given the opportunity to undertake:
Optional Single Cylinder Inspection Module (CP47)
Successful completion of this module will enable operators to carry out inspections on individual cylinders and mobile pressure equipment.
BCGA CP47 states that it is essential that at least an annual inspection is carried out on individual portable or mobile pressure equipment.
All delegates will receive instruction on the correct procedure required to safely and effectively carry out the inspection of equipment using the PGS Inspection Manual & inline with BCGA Code of Practice 47
Successful completion of the course will lead to the award of the Level 3 Award in Applied Compressed Gas Safety a Proactive Gas Safety Passport Card and Certificate of Attendance.
Course pre-requisites 
Delegates must have attended the compressed gas user course prior to attending.

Only experienced operators of the equipment are suitable to inspect equipment.
Inspection module £525 + £75pp
Please enquire about this option at time of booking.