Gas Charge Accumulator Safety Training
Attendance gives staff the information required to understand the specific hazards associated with the task of charging an accumulator with a compressed inert gas, including understanding relevant pressure systems regulations and correct pre-charge set up.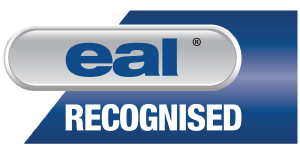 Certification is available as a Nationally Accredited Level 3 Qualification.
Awarded by EAL the Level 3 Qualification is the the highest level of achievement available for compressed gas safety training in the UK - only available from PGS.
"From my perspective as a Training Co-Ordinator I find that the website is easily accessible and shows, at a glance, those who have not completed their courses. I am also notified immediately via email when a delegate completes and passes the course as I am sent a copy of their certificate. It is immensely helpful…
Face to face classroom & practical instruction at your location.
Scheduled at customer request.  Max 8 delegates.
Only available where social distancing guidelines can be met.
Trainer led - real time training, allows delegate interaction with Q&A. Practical demonstration included
Scheduled at customer request.  Max 12 delegates.
Supporting practical onsite training can be arranged where social distancing guidelines can be met.
Course Structure for Gas Charge Accumulator Safety Training
Classroom Session (3 hours)
Interactive training on the safe filling of gas loaded accumulators.
Practical Session (allow approximately 1 hour)
Learners will be given the opportunity to undertake proper pre-charge procedure.
Alternative Training Options
Interactive & engaging e-Learning lesson. Covering the safe use, handling, storage & transportation of bottled gases used in Laboratory & Industrial applications.
Sorry, we couldn't find any posts. Please try a different search.